Can I charge a gopro with a usb power pack? this are questions asked too often but have been treated awhile ago >>>> How to Charge your GoPro with a Usb Power Bank
A short summary and a vague answer to the question is YES. You can simultaneously record and charge your gopro with a compatible power bank that outputs a 5V 2A (ideal), or 5V 1A (minimum).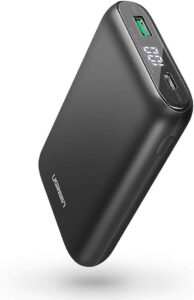 This is a UGREEN Power Bank 10000mAh Portable Battery Charger for GoPro Hero 5 6 7 with a Battery Charging Slot, Compatible with iPhone X, 10, 8, 7, 6S Plus, Samsung S9 S8 Plus Note 8, LG G5, Nintendo Switch: You can checkout Reviews here
Can I Charge a Gopro Hero5 Session with a USB Power Pack?
To charge your gopro Hero5 Session with an external power pack, you will need the USB-C cable that was provided with your camera and compatible power bank. Buy a Gopro power bank on amazon or check other recommended power bank here. Open the access door to the usb port, then connect your gopro session to a USB external power pack that outputs 5V 2A (ideal), or 5V 1A (minimum).
✔️ This specific External Power Pack for Gopro is the most popular with gopro users.
It's Available in Black and white color and has a ton of 5-star reviews. If you can get it under $60, grab it. That's a great deal for a gopro power bank! (see color choices, current price & Reviews here).
Is Anker Astro E7 Compatible With Gopro Hero 5, 6, 7?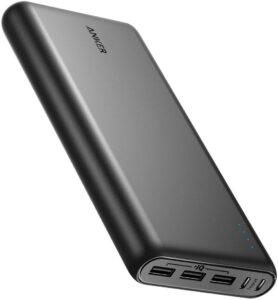 Anker is a reputable brand – Their Anker Astro E7, Anker Astro E5, Anker Astro E3, Anker Powercore and Anker Powercore Power banks are packed with premium japanese cell to ensure reliability and safety. They all compatible with all models of gopro including the gopro hero 5 session. I use their power packs to charge all my gadget and I recommend.  Check out all compatible anker gopro power banks on amazon.
The Short Answer is Yes

This is a Anker PowerCore 26800 Portable Charger, a recommended External Battery for your gopro. It comes with Dual Input Port and Double-Speed Recharging, 3 USB Ports for other gadgets like iPhone, iPad, Samsung Galaxy, Android. Check out Reviews on amazon