Gopro is one of the best underwater HD capable video Camera available for scuba diving or snorkeling, but with with a gopro dive housing you increase your gopro depth rating with added protection if you do alot of trail riding in the mud dust and other wet conditions because of the stronger build which isn't bulky. The Super Suit can be used for deeper submersion of about 196ft (60m), granted you follow the tips in this guide.
NOTE: This guide can be apply to gopro Hero3, 4, 5 and Hero 6
What is a Gopro Dive Housing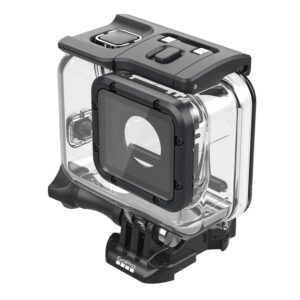 The Gopro Dive Housing also known as GoPro Super Suit Uber Protection, is designed for deep sea diving and extreme activities.  It is a bit stronger than the standard housing and is waterproof to 197 feet/60m
It a recommended accessories for Scuba diving depth, though it act as a standard housing replacement for regular shooting.
Gopro Dive Housing Review
You may be wondering:-
How deep, how far down can my gopro go under water,
What about water pressure?
What is the dive housing specifications or the depth it can go.
is it necessary for snorkeling and scuba diving
then read down, because this review was written for you in mine
GoPro's Depth Rating
You may be asking, what are the waterproof and depth ratings on a GoPro Action Camera?
The truth is, how far down your gopro can go under water, depends largely on the housing you are using.
The default housing usually called the Standard Housing is waterproof to a maximum depth of 131 feet (40 meters) while the The DIVE Housing is rated to a deeper depth of 197 feet (60 meters)
GoPro Super Suit Uber Protection is rated 197 feet i.e. 60 meters
Check out the difference between the gopro dive housing vs standard housing
GoPro Dive Housing Specifications
Higher Depth Rating: Dive to Depths of 196′ Waterproof to 196ft (60m)
Rigid Body: Help Protects from Dust and Debris
Flat Glass Lens: The flat glass lens delivers maximum image sharpness above and below water in all resolutions, free of vignetting and Ideal for dives, snorkeling adventures and any other underwater film or still photo shoot
Two Waterproof Backdoors which can be used with Floaty: The Waterproof Backdoors provide protection to depths of 196 feet (60m) and also safeguard against flying debris, gravel, dirt and small rocks
| | |
| --- | --- |
| Product Dimensions | 2.2 x 3.2 x 3.3 inches |
| Item Weight | 3.36 ounces |
| Shipping Weight | 7 ounces |
Weight
Gopro Weighs 68.0g with the skeleton backing and 74.2g with full-seal backing
Where can I buy a Dive Housing for Gopro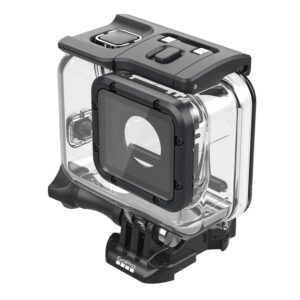 For Hero 3, Hero 3+, Hero 3 Plus, Hero 4 Camera: You can Get the GoPro Original AHDEH-301 197′ / 60m Waterproof Underwater Protective Dive Housing with Standard, Skeleton and BacPac Backdoors

For your HERO6 Black or HERO5: You can get the GoPro Super Suit (Über Protection) with Dive Housing
Gopro Dive Housing Safety Tips
Before going deeper to a depth of 197 feet (60 meters)
Save money to buy the Original Gopro Super Suit and not the super cheap generic ones

Make sure you verify that there is no dirt or debris along the white rubber gasket that could compromise the integrity of the waterproof case.

E

nsure that your gopro port is fully sealed and push the housing backdoor all the way in before securing the black latch on the top of the case.
If you are using the camera in salt water, it's always a good idea to safely remove the camera and wash the housing with fresh water.

To avoid leakage and moist in the compartments. ensure they side doors are fully closed
Frequently Asked Questions
is audio recording quality still the same if you have the GoPro inside the supersuit? No the audio quality is not the same if you place the gopro inside the supersuit, especially if you are using a backdoor attached. You will soon noticed the audio is muffled
Is the super suit, moist-free? Not Really, you still need to insert a moisture absorbent strips into the housing for prevention.
How many backdoor are include in the Pack? the is a standard deep diving back door which you cannot use with the touch screen and a waterproof back door where the touch screen is usable.
Can I use my touch screen with this gopro supersuit? Yes you can if you use waterproof back door. You can use the touch screen till a depth of 15 feet, after that buttons are pushed in due to pressure at the depth – you can neither start or stop recording.
Will the same Super Suit – Dive Housing fit hero 3, 4, 5 and hero 5 is ? The Hero 5 and 6 which are the same size is a few millimeters larger in all directions compared to the Hero 4 and 3 Therefore requires a different housing