Power Banks are not only the best companions in every adventure but a way quickly provide external backup power for your GoPro and other electronic devices.  Many times you lose some crucial shoots or pictures because your GoPro is flat down.
During Hurricane Harvey a friend of mine used a GoPro power bank to charge his GoPro and phone for 3 days, it helps gather stationary long recordings of the wreckage.
That is why in this post, I will guide you on what to look out for when choosing a GoPro power bank and list other GoPro Extended Battery Options available in the market so that your GoPro will never run out of juice ever again.
What are the Best Gopro Power Banks?
Powerbanks are not built the same, though we have some power banks specifically designed for GoPro users like the Ugreen 10, 000mAh portable battery charger
which doesn't only features the regular USB-A 5.1V/2.4A port, but also has a single charging slot for a GoPro Hero 5/6 or 7 Battery, but being a relatively new product it the market there are quite a few consumer reviews on it. In general, a good GoPro power bank should have met this requirement:-
The optimal DC Current and Voltage required (i.e 5V / 2A) to power your gopro
High Power Battery pack ranging from 10,000mAh to about 20,000mAh
Be able to charge your GoPro quickly (i.e. fast charge because of its high VDC as of the Anker power banks)
Have additional features that fit the GoPro user like having multiple charging ports, a dedicated GoPro battery charging port, being waterproof, lightweight, straps on a backpack, and the ability to charge on solar
That means you can use a GoPro power bank is perfect for taking time-lapse, hiking, skiing, swimming, traveling and some time emergency situation to charge other electronic devices. They can provide enough juice for a 6 times charge, so you do not need to carry many backup batteries in your backpack.
Invalid table id.
All recommended power banks listed here are compatible with all Gopro Models: Hero 4, Hero5, Hero6, and Hero7 and will give you optimal performance right outside the box, perfect for an emergency go pack
 Anker PowerCore 26800mAh – Ultra High Capacity Power Bank for GoPro Users


Sale


Capacity: 26, 800mAh Charges Dimensions: 6.5 x 2.3 x 0.9 inches Weight: 12.5 Ounces Features: Quick Charging with PowerIQ and VoltageBoost Technology, 2 2.4 A USB Port, Safe Charge with Multi-Protection, Led Light Indication
I'm a fan of Anker products, so having an Anker PowerCore 26800 that can power my GoPro was a plus. This External battery power is a work-horse, it meets my needs without being too bulky.

Credit: The Picture shows John Peltier from www.jmpeltier.com using the Anker PowerCore 20100 to charge his GoPro Karma Grip & GoPro Hero5 Black. Both easily fit in the palm of the average-sized hand.

The Anker PowerCore 26800 has been my trip buddy for almost three years now and it has never let me down  – hot, cold, wet, dry – it always charging my GoPro.
If you don't fill comfortable with this brand, Follow the links here to explore Anker's line of PowerCore portable chargers ranging from 5,000mAh to 26,800mAh.

 EasyAcc 20000mAh Portable Charger for Gopro


Capacity: 20, 000mAh Charges Dimensions: 6 x 2.9 x 0.9 inches Weight: 13 Ounces Features: Qualcomm Quick Charge supported on the Green Port,  4 USB Charging Port, Led Light Indication
This monster portable power bank is a perfect fit to charge your GoPro, with the ability to Charge up 4 devices simultaneously on its 4 smart USB ports. Thus USB Type-c port adopts the latest Quick Charge 3.0 technology. The EasyAcc 20000mah is a great bargain at its current price on amazon

RAVPower Portable Charger 26800mAh Power bank



Capacity: 26,800mAh Charges Dimensions: 6.8 x 3.2 x 0.9 inches Weight: 1.35 pounds Features: High-Speed Recharging, Colossal Battery Capacity, Three Ports, Total Compatibility, Safe Charge with Multi-Protection, Led Light Indication.
RAVPower Portable charger is a 5.5A Output 3-Ports External Battery Pack suitable for GoPro, Portable Phone Charger iPhone, iPad Other Smart Devices, Charge it for 14-15 hours and you are sure of 9 days juices for your GoPro. My girlfriend's mom bought this for her dad, as a portable charger for his Hero5 session, and it works perfectly well.

GoPro Portable Power Pack

Sale


Capacity: 6,000mAh  Charges Dimensions: 2 x 5.2 x 8.9 inches Weight: 10.4 Ounces Features: Two Ports for Charging 2 Gopros simultaneously, Total Compatibility, 4x Gopro Battery Charging Capacity, Led Light Indication.


Worthy of mention is the GoPro Portable Power Pack and official accessory for GoPro, which can recharge two GoPros simultaneously in 2 hours.  It can charge a  GoPro battery 4 times and 2x charges a GoPro stabilizer. It is deemed to be Lightweight and has a portable design that easily fits in your pocket for charging your GoPro any time, anywhere. It is crafted to provide

power when tethered to the camera, which is ideal for extended video, time-lapse, and night-lapse shooting. Reviews show it charges the GoPro faster when compared with other cheaper power packs available in the market.
Learn how to charge your GoPro with a power bank
Can you charge a GoPro with a power bank?
You Can actually charge your GoPro with a power bank that offers a USB-A or USB-C Port with 5V / 1A Output with the HERO7, HERO6, and HERO5 models requiring an output of 5V / 2A. So any model of power bank like the Anker PowerCore 20100 
will meet that requirement.
Note: PowerBanks with lower ratings… might not power your GoPro, and an external power source with higher VDC like 3A and above will have an effect on the GoPro battery life span. So it is recommended to use a power bank within the maximum current rating (5V / 2A)
Can I record a video while charging on my GoPro?
Yes, you can record videos when charging with a power bank. But note that the battery level won't increase while charging, but in the real sense, it is. Just stop recording and you will notice an increase in the battery level, I suppose it's a glitch in the software that causes it.
Which is the best brand of power banks for Gopro?
For me after looking at all the factors its a brainer that will go for an Anker Power, specifically The Anker PowerCore 20100 power bank
. It has a huge capacity, fast charging, and excellent value for the money.
GoPro External Battery Options
GoPro External batteries are a great savior in many critical situations, as the battery level drops when recording and you don't have any spare batteries to use, having it in your backpack on your trip will save you the worries once you have it around and help extend the running time of GoPro cameras. Here are some external battery packs that I have researched and found recommended by users.
Dizaul Solar Power Bank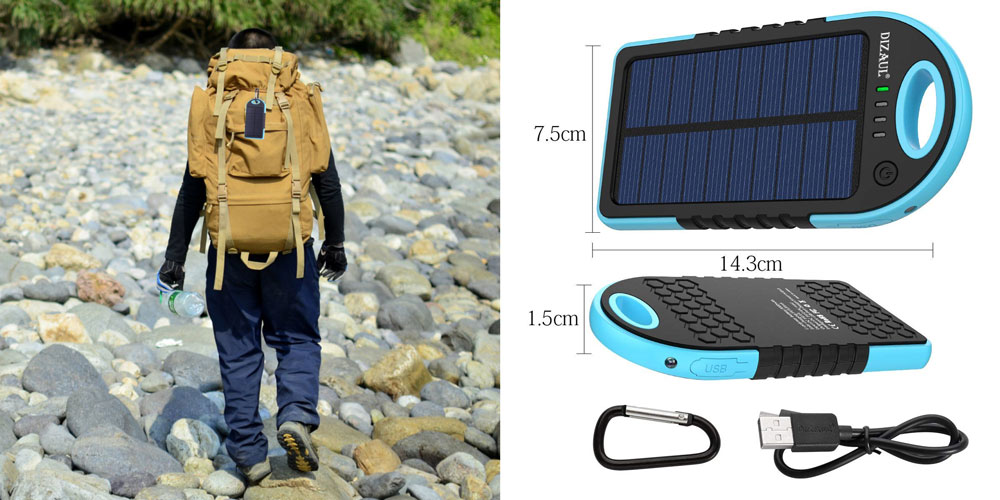 Capacity: 5000mAh Charges Dimensions: 5.6 x 2.8 x 0.6-inches  Weight: 5.3 ounces Features: Solar Charging, Anti Slippery, Waterproof and Dustproof
The Dizaul solar power bank is Most suitable for your GoPro and it's a great product to take with your backpacking. The external battery power bank has a waterproof design, shockproof, and dustproof. It can be charged while hanging on your backpack as it is solar powered
It Charges in 30 hours when solar-charged and only 7 hours when charged with Power Cord
Have you used any power bank on your GoPro, How was your experience? and overheating issues? which brand of power bank do you consider the best? let us hear from you in the comment section below