Increasing your Gopro Hero 7 recording time involves either getting an extra set of batteries or hooking it up to external power source like a Power Bank.  YES you can charge and record with a Gopro and power bank combo.
This setup can be perfect for timelaspe, travel videos, concert recording etc.
if you're curious (or in a hurry) to find out the best power bank for gopro:
✔️ This specific Gopro Power Bank is the most popular with gopro users, with over 14,000 reviews on Amazon and other great reviews on youtube, reddit and Quora.
It's Available in Black and white color and has a ton of 5-star reviews. If you can get it under $60, grab it. That's a great deal for a gopro power bank! (see color choices, current price & Reviews here).
How to Charge your gopro with a Powerbank – The Ultimate Guide
Increased recording time!!! that is what many gopro users are looking for ways for.
Have you been asking yourself if you can power your gopro with or without battery with a power bank? or
can power bank be used to charge a gopro?
what is the best power bank to use for my gopro?
How to setup the connection: Power a GoPro with an external power source?
BEST GOPRO POWER BANK FOR HERO7, 6, 5 & 4
| | POWER BANK BRAND | Battery Capacity (mAh) | Where to Buy |
| --- | --- | --- | --- |
| | Anker PowerCore Ultra High Capacity Power Bank | 20100 mah | |
| | EasyAcc Portable Charger | 20000mAh | |
| | UGREEN Portable Battery Charger for GoPro  | 10000mAh | |
| | GoPro Portable Power Pack | 6000mAh | |
| | RAVPower gopro Portable Charger | 26800mAh | |
However in this Guide, You will learn:-
How to use an external USB Powerbank to charge your GoPro camera batteries while in the unit as well as power the GoPro camera if you turn it on.
To extend the battery life of your Gopro or figure out more charging options or ways to increase your time lapse recording time with your Gopro Camera, this guide will provide the recommendations external power packs, tips and tricks to power your GoPro camera on the go for days with an external power bank. It is suitable for use during sporting activities such as Skateboarding, Snowboarding, Climbing, Skydiving, Racing etc.
GOPRO POWER BANK RECOMMENDED VOLTAGE
Earlier models of GoPros takes 5V/1A. But the HERO7 and HERO6 can take up to 5V/2A Connected via USB Type C connected to an external power source, such as a powerbank, Multi-port AC USB hub, Wall Charger, Car charger, Solar charger etc.
A portable power bank for gopro is a handy device that can charge your travel gadgets on the go, it can charge up a mobile phone, Ipad, laptops but in our case it will be used to charge our Gopro.
WHAT TO LOOK FOR IN GOPRO POWER BANK
Compact and lightweight
High Power Capacity i.e 20000mAh
Multiple USB output with atleast a 1A 5V output
Top rated Li-Ion battery cells
Durable and Portable
Automatic power off when unit is fully charged
But the puzzle remains finding a compatible power bank that can supply a 5V DC and a 1A Current to charge the battery or power your GoPro camera.
That why we have compiled a list of recommend power bank brands that will actively increase your 2 1/2 hours recording time on a standard gopro battery to approximately 11 hours, with extra juice to also charge other gadgets like iPad Air, Mini, iPhone, Galaxy, Nexus, HTC), Motorola Droid, LG mobile phones,
CONS OF USING A POWER BANK FOR GOPRO
the major downside I know of is losing only the ability to go underwater.
Sometime you loss portability if you get a heavy power bank
BEST GOPRO POWER BANK FOR HERO 7, 6, 5 and 4
All power banks listed below meets all requirement for usage with your gopro. The all have good star rating and excellent customer reviews on amazon. our aim is to lessen you work in researching for the power bank that is compatible with all models of gopro including:-
HERO 5 Black and Silver
HERO 3+ Black and Silver
HERO 4 Black and Silver
HERO 4+ Black and Silver
HERO 5 (All Models)
GOPRO SESSION (All Models)
GoPro Portable Power Pack Charger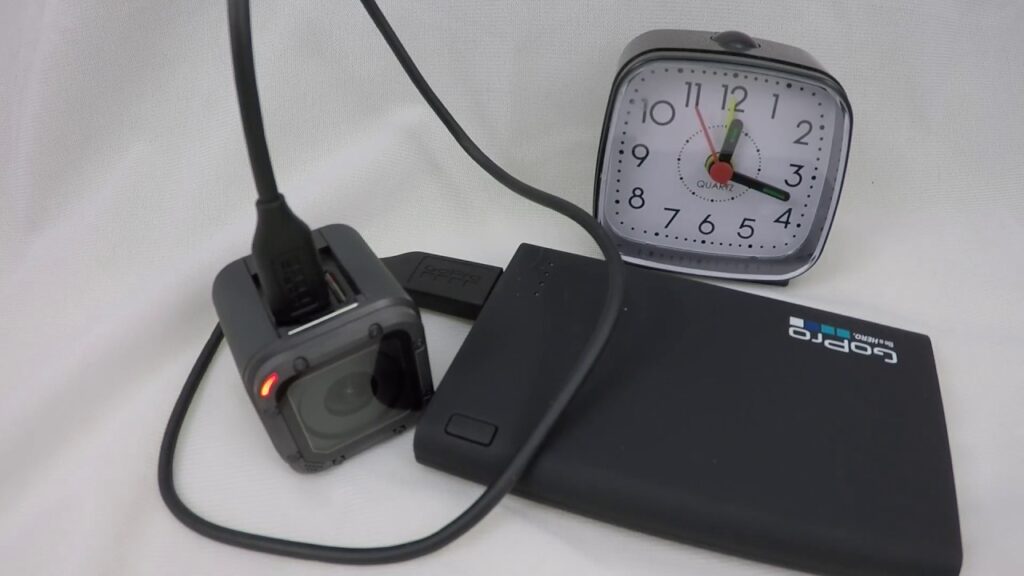 "Click the Button for more info about Gopro Power bank"
check out customer reviews and current price on Amazon"
This 6,000mAh power pack is manufactured by gopro do not packing enough power it is capable of charging your gopro up to four times. it can also power your phones and other devices on the go
Key Takeaways
Portable, compact, pocket-sized design
6,000mAh
2 1.5A USB Charging Port
Battery Status Indicator
Its all good… an OEM Product, but to me – its not worth it based on the price…
Anker Astro E7 26800mAh Ultra-High Capacity 3-Port 4A Compact Portable Charger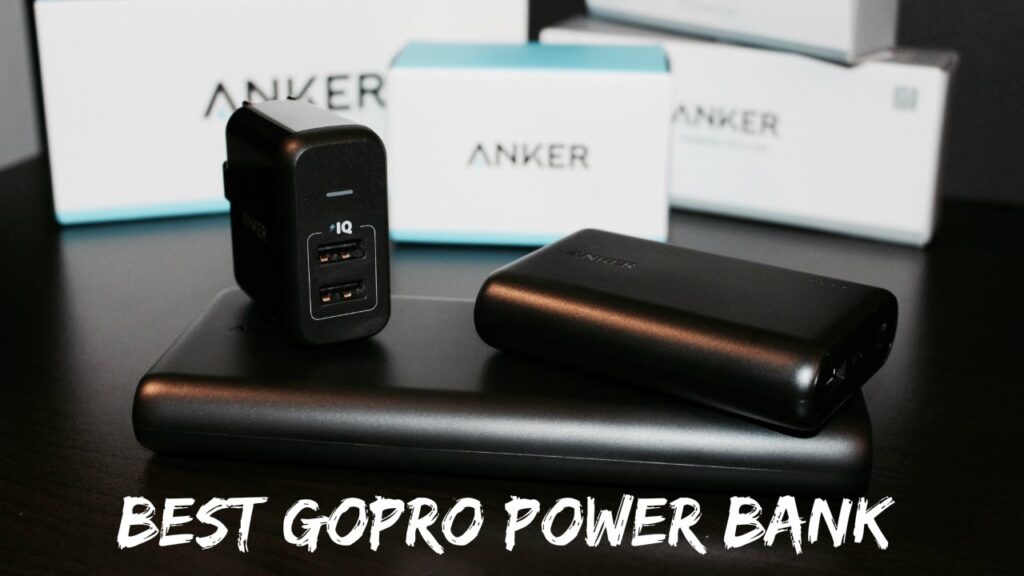 "Click the Button for more info about Anker Astro E7 26800mAh Power bank"
check out customer reviews and current price on Amazon"
This 17oz light weight power bank packed with a charging cable and a black purse for the charger. At 25,600 mAh, it is one of the most powerful battery packs available in the market. It features the PowerIQ charging technology for each of the 3 ports, which means that you can plug in any type of device and this smart port will set the charging current to match the maximum charging rate that your device can safely handle.
Key Takeaways
PowerIQ charging technology
3 USB Charging Port
led Charging Indicator
26800mAh – that's a lot of juice
Anker Astro E7 26800mAh Ultra-High Capacity 3 IQ ports Powerbank is all you need for your gopro
RAVPower 32000mAh Portable Charger


"Click the Button for more info about Ravpower 32000mah Power bank"
check out customer reviews and current price on Amazon"
This is a 32000mAh External Battery Pack for your gopro hero camera, laptops, phones etc; made of High-density Li-polymer Battery. It comes packed with 2 micro-USB charging cables and carrying pouch and a lifetime warranty card. weighing about 1.6 pounds definitely it is worth in based on the enormous power it throws out.
Key Takeaways
3-Port, 2.4A Input
Triple iSmart 2.0 USB to Simultaneously & rapidly charge multiple devices
Has a Deluxe UL94 V-0 fire & UV resistant casing
4 Built-in Precise Usage indicator Led Light
Ugreen Portable Battery Charger for GoPro Hero 5 6 Black


"Click the Button  for more info about Ugreen Portable Power Pack for gopro"
check out customer reviews and current price on Amazon"
This power has an exclusive Gopro Battery Charging Slot – which Conveniently charges your Hero 5 Hero 6 Black batteries and  Camera simultaneously when you're traveling.

Dual-Device Charging: quick charging speed for Gopro battery charging Slot + USB Port.


High Capacity: 10000mAh capacity can charge a GoPro 5/6 battery for 6 times
Type of GoPro Charging Cable
Here's a list of suitable USB cable for charging gopro with an external power source.
GoPro HERO6 Black, GoPro HERO5 Black, GoPro HERO5 Session use a USB-C Cable
Micro-USB B Cable if you have a GoPro HERO Session or GoPro HERO4 Session
Mini-USB (USB Mini-B (5 pin): For Owners GoPro HERO4 Black, GoPro HERO4 Silver, GoPro HERO3+GoPro HERO3, GoPro HERO+ LCD etc.
How to Connect your Gopro to an External Power Source
Purchase a skeleton gopro housing or bore a hole behind your Gopro Standard Housing
Buy our recommended power bank that produce the right current for your gopro camera
Get a long high-output USB TYPE C Cable , Micro-USB B or a Mini-USB (USB Mini-B (5 pin): based on the model of gopro you are using.
Connect your gopro camera by passing USB-C cord through the hole you bore on your standard casing if you are not using a skeleton casing.
You'll need a perfect case to strap your powerbank to any mount. Get a Hard Shell EVA Carrying Storage Travel Case Bag on Amazon
Note: Large capacity power bank takes a while to charge up, so it is recommend you to leave it overnight to charge, to have enough juice to last for days
Best Portable Power Bank for Gopro Hero 7
This is the Anker Powercore 26800 video review, instructions and manual, it is one the most suitable external power source for your gopro.
REVIEWERS' CHOICE
I have two 26800mah Anker E6 Gen Power Banks, I call them the ultimate portable power bank because of their superior quality, Incredible Capacity and portability. I use it personally with my Gopro Hero 3 and 4 Session and never had a downtime Anker Astro E7 Ultra-High Capacity 26800mAh 3-Port 4A Compact Portable Charger External Battery Power Bank with PowerIQ Technology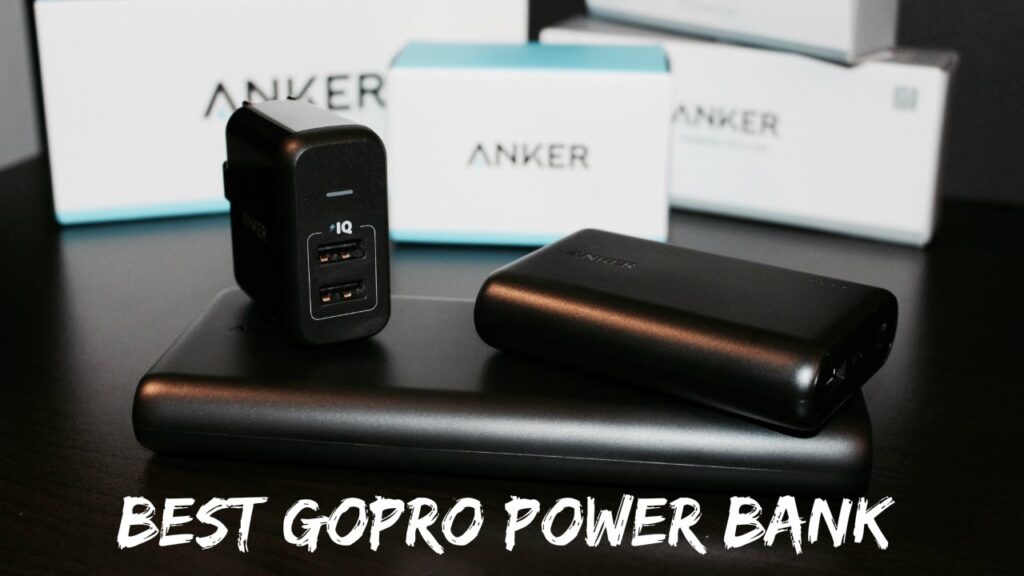 "Click the Button for more info about Anker Astro E7 26800mAh Power bank"
check out customer reviews and current price on Amazon"
Frequently Asked Gopro Power Bank Question (FAQ)
Do you think it's safe to use a power bank for charging a gopro? Absolutely Yes, that why gopro has manufactured a gopro power pack that carries enough power, capable of charging your gopro up to four times.
Is it okay to charge a gopro using a powerbank, while using and not using it? Absolutely Yes, No effect what so ever if you are using it at the same time or not. It is particular effective in long shots like timelaspe etc
Is it okay to charge it when it is not yet low battery?  Not effect whatsoever – when a gopro is plugged into an external power source such as a power bank, circuit is short out from charging, when the battery is full.
What is Best External usb power banks/chargers for Gopro? follow our Guide up the a you can choose a power bank that fits your need.
Can you use external 5V mini usb power banks/chargers with Gopro? Yes. that is the recommended voltage i.e a gopro power bank with atleast a 1A 5V output
Can I power 2 GoPros from 1 power bank? this is one of the features we encourage you to look for before getting a power bank for your gopro i.e. multiple usb charging port for charging 2 or more gopros and other gadgets you are with on a trip
Waterproof & Shockproof Powerbank
Power Bank for Gopro hero 5? all power banks listed above are compatible with gopro hero5
gopro portable power pack instructions: watch the video included in this guide for instructions